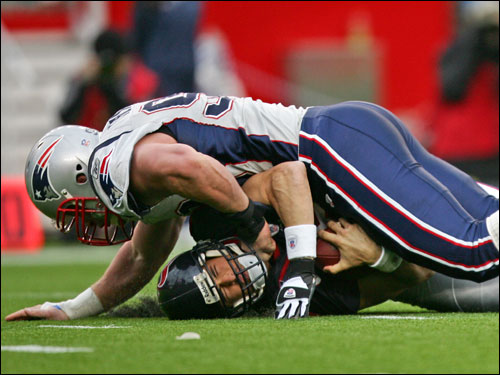 Help...me...
The Bears have some problems. Our offensive line has more holes bigger than Paris Hilton's, we have a series of backup QBs competing for a starting job, and a lousy runningback who can't catch.
That said, recent speculation is that the Bears have shown interest in both David Carr and DeShaun Foster, two ex-Panthers released this week.
Dear lord, please no.
First, let's talk Carr. This guy spent years in Houston where the offense consisted of him airing it out within 3 seconds or getting sacked horribly. There was no running game, no inbetween. Carr never learned to use the short pass, something that the Bears have been trying to use more lately. Want to chuck the ball downfield? We've got that covered with Grossman. Want to just throw wounded duck passes inaccurately? Orton all the way.
There's just no room for him on this team. Carr
could
be better, and he has better wheels than any of our QBs (and Benson, sadly), but he just hasn't shown that he can perform -- especially after being handed the keys in Carolina. The Bears will likely be relying on tight passing next year (think 6 yard gains to Olsen), and that's more of Orton's territory. Carr just isn't worth the risk for a 3rd string QB.
As for DeShaun Foster, he's old. Period. DeAngelo Williams (finally) took his job in Carolina, and we already have our hands full with Benson. There's no point to having the young guy sit for an old guy who probably won't play more than a season or two for us. If Benson could catch, this wouldn't even be an issue. Foster is a short term solution, and the Bears are shooting to be a younger team. If we were in the playoff hunt with everything set EXCEPT for a running game, I'd say Go Foster. Instead, Benson is actually a SMALLER difficulty on this team. If/when the line gets its act together, Benson's gains will increase. If Benson establishes a ground game, the passing game opens up, etc etc.
Just say no to Carolina.