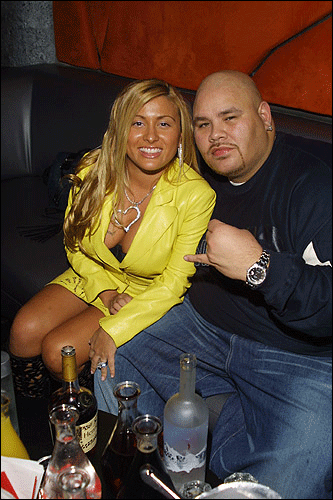 This is actually Colon (without hair) and not Fat Joe as initially thought. Oh, and nice rack...on both.

With a little help from the
Spanish department at Luol's Dong
, it seems that the
Sox have come to terms with Bartolo Colon (pending physical)
.
No, no, a thousand times no!
When we had our first Colonoscopy in 2003, things were different: we were the strongest team in our division (on paper, anyways...damn Twinkies), and Bartolo weighed 30 metric tons LESS. Our offense was one of the best in the majors with Ordonez, Lee, Thomas, and Konerko, and we were poised for a pennant run. Chubby Checker was younger then, and pitched 242 innings with a 3.87 ERA...in games that didn't matter. I still remember those important games where he gave up 8 runs in the first two innings only to go and shut out the Royals in his next start. He was a workhorse, but not a consistent one. It's amazing what pitching 9 innings every outing can do to lower your ERA.
Fatty McGee topped out in 2005, going an unthinkable 21-8 with a 3.48 ERA for the Angels. Unfortunately, after some rotator cuff damage in the playoffs, he spent almost all of 2006 and 2007 on the DL. The terms of our deal with Lard Lad are undisclosed, but most likely, it's a 2-year deal, which means that the Sox could be in for a huge loss if Bartolo is hurt this year as well. Not exactly the workhorse we need nowadays.
More importantly, we're not really in a position to be competitive this year. I admire Ozzie and Kenny's commitment to winning, but this is not the time to be bringing an old cripple onto the staff. This is the time to be going forward with Danks, Massett, Floyd and any other youth we have that can throw a ball. Get the kids out there to play -- bringing in Colon almost certainly sends Danks to the minors, and probably has Massett DFA'd (terrible idea).
I really hope this isn't true -- most importantly, because t
here isn't room on the "fat-cart" for Colon

and

Uribe
.
Update: Ozzie says he hasn't spoken to Colon in weeks...but Impacto was right about Castillo AND Dotel weeks before they were announced...