Let's face it -- sometimes there isn't enough sport to go around in this city so you've just got to make some.
That said, let us welcome THE CHICAGO GRUDGE MATCH OF THE DAMNED!
Challenger: Ray Szmanda, AKA The Menards Guy
Bio
: Born 1926, iconic character linked to the Menard's chain. Hails from Wisconsin and attacks our fair city.
Interesting Fact
: Goes by KB9JPB on HAM Radio. Seriously.
Strengths
: Appeals to hillbilly redneck inbred trash with odd banjo music that plays behind every ad. Also talks loudly and excitedly for no particular reason. I'm sure he does a mean Harry Caray impression with those glasses.
Weaknesses
: Tends to soil self from excitement. Also, I thought he was dead.
Wow:
Great Nephew Eric Smandza is on CSI. He plays Greg. Wow.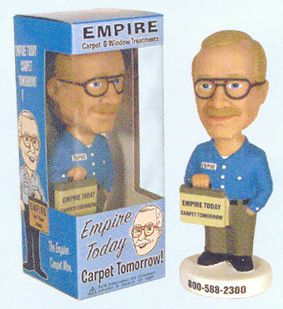 Defending Champ: Lynn Hauldren AKA The Empire Carpet Guy


Bio:
Born 1923, enthusiastic old man linked to Empire Carpet. Born and raised in Chicago.
Interesting Fact:
Actually composed the Empire jingle himself and
recorded it with the help of a group called The Fabulous 40's. I'm sure they're all dead by now.
Strengths:
Selling carpet. Repeating monotonous ear-worm of a jingle. Maintaining a mustache that could clean my floors for weeks. Probably bent the Luna Carpet chick over multiple times back in his prime.
Weaknesses:
Dressing up like a giant rabbit, pumpkin or other holiday related entity for holiday sales. Tends to spontaneously burst into song. I also thought he was dead. Again.
Wow:
He has a band called Chordiac Arrest that has been performing until 2007. Hauldren got so full of himself that he started a new band called Chordplay. Both band names would have been much cooler if they weren't a barbershop quartet.
Vote for your winner in the comments (I seriously can't believe that they're both alive)!