See, there's a problem when you spend a boatload of money on a player like Ben Wallace, only to find out that you have a younger, more effective center on the team in Joakim Noah. With a major contract difference, Noah can provide everything Wallace can (including horrible hair), except maybe the ability to bitch.
So, why are we sitting on this waste of space? It's only a matter of time before he loses more time to Noah and eventually spends more of the game riding pine. The Bulls are going to be re-tooling and getting older players out of the way. Not only that, but Wallace is
already
in the midst of a decline. If we sit on this, Wallace is only going to get worse.
So what do we do?
We help out an old friend: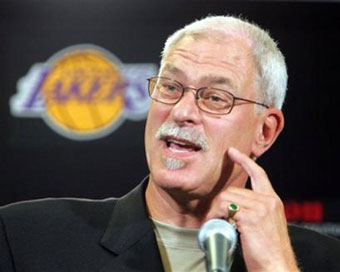 "And then MJ was all like, 'but coach, I don't think I have what it takes to win this game,' and I was all motivational and stuff."


For the first time in a while, Jackson is at the helm of a legitimately competitive team. No longer just the Kobe show, the Lakers have been riding high on the success of man-child Andrew Bynum who -- oh shit! He's hurt? And he plays center? Hm...
With Bynum out for about two months, it's in their best interests to get a center to stay competitive. There's gotta be some sort of trade the Bulls can pull off here -- get it done, Pax!