Beginning of the 4th Quarter: Orlando leads 110-79. Joakim Noah sits behind the bench.

Noah: YEEAAAHHH! This is where we dooooo it, guys! This is our time to shine! [dances]
Thabo Sefolosha: Durrr...lookit me! Me Joakim Noah! Here's where how we does iit [repeats dance]
Noah: ...who are you, again?
Sefolosha: Thabo Sefolosha.
Noah: Ghezunteit.
Sefolosha: Fuck you. Try passing ball to me when yous get off bench -- IF you get off bench.
Noah: Yeah, whatever. At least Luol knows where I'm coming from -- right Luol?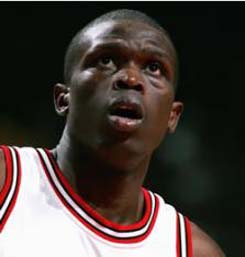 Luol Deng: Birdie...
Noah: ...what?
Deng: Biiiirdiiiiie....
Noah: What the hell are you talking about?
Deng reaches into Noah's hair, produces dove and quickly consumes it


Deng: Mmm...Birdie...
Noah: I was wondering where that went...OK, well what about Noch? Hey Noch!
Andres Nocioni: AUGH! OWWWW!! [whispering] Quiet, or they'll know I'm not hurt!
Noah: We haven't even inbounded the ball yet, you Italian retard!
Andres Nocioni: I'm Argenitnian, not Italian, dumbass [falls to the floor clutching stomach]. Augh! Ahhh!!!
Noah: Oh fuck this. C'mon, coach! Put me in! This is my big chance!
Coach Boylan: Um...let me check. I don't know if that's OK. Excuse me, Mr. Wallace?
Wallace [yelling from halfcourt]: You better not let that freak on my court!
Boylan: Sorry, Joakim. My hands are tied.
Noah: Sigh...we're fucked.